Our cozie fleece gripper booties for baby are a perfect example of function meeting fashion and comfort. They feature our signature two-snap secure fit to keep them on baby's feet, and the super soft cozie fleece makes them comfortable and adorable. The gripper feature on the bottom is designed to help new walkers grip slippery floors when your little one is just starting to take those momentous first steps. These periwinkle colored booties are a perfect addition to your growing collection of Zutano baby booties.
Shell: 70% Cotton / 30% Polyester

Lining: 100% Cotton

Machine washable

Imported

SKU: PFLG00-PERI
Shell: 70% Cotton / 30% Polyester
Lining: 100% Cotton
Machine washable
Imported
Free U.S. shipping on all orders over $40
Most orders ship same business day if placed before 1PM ET
Free returns and free size exchanges within 30 days or 45 days during Holiday season (11/15 - 12/24)
Expedited shipping options available
Designed to stay on
Our signature two-snap system is made with high quality snaps that allow for an adjustable, comfortably snug fit and won't wear out like cheaper hook and loop alternatives. No more lost socks!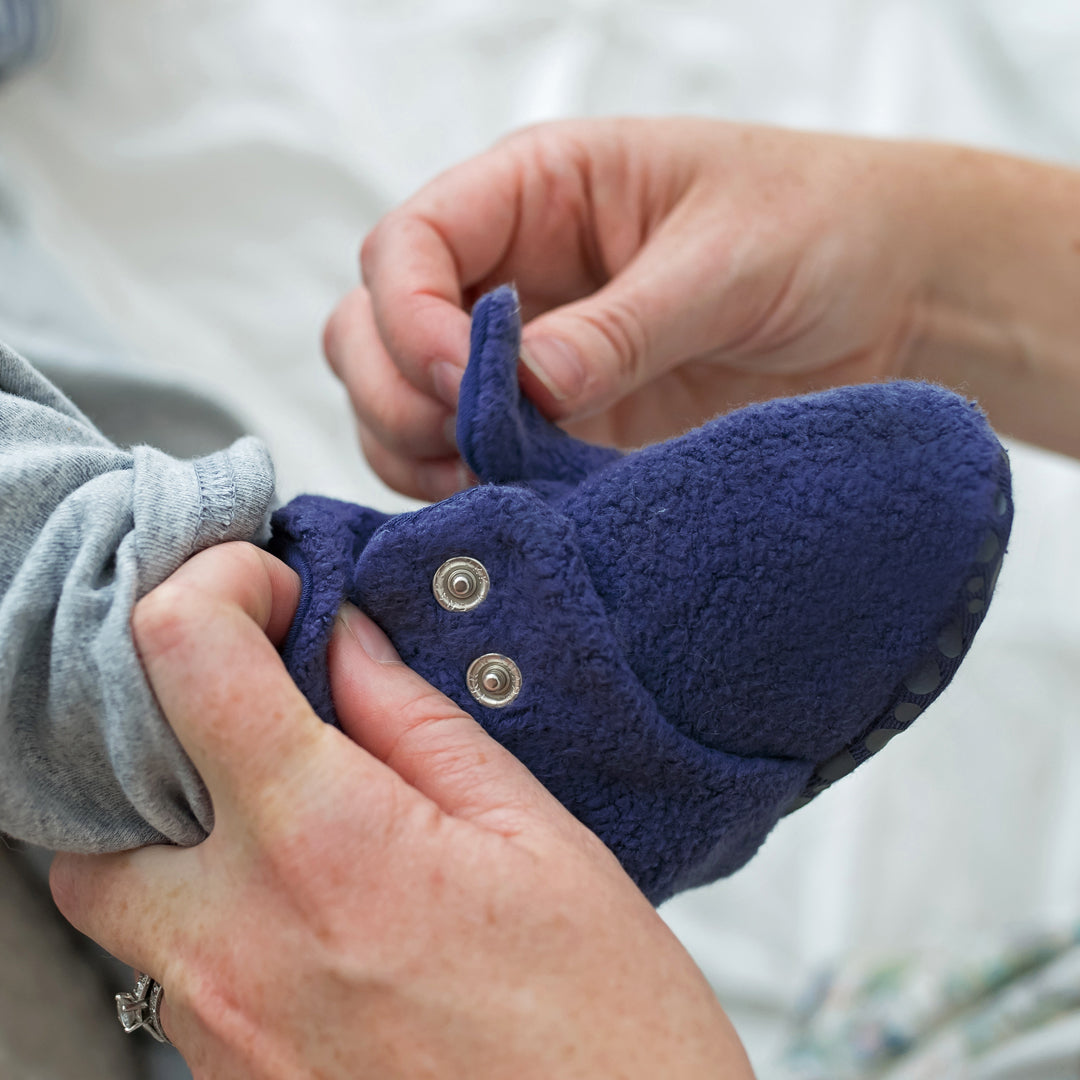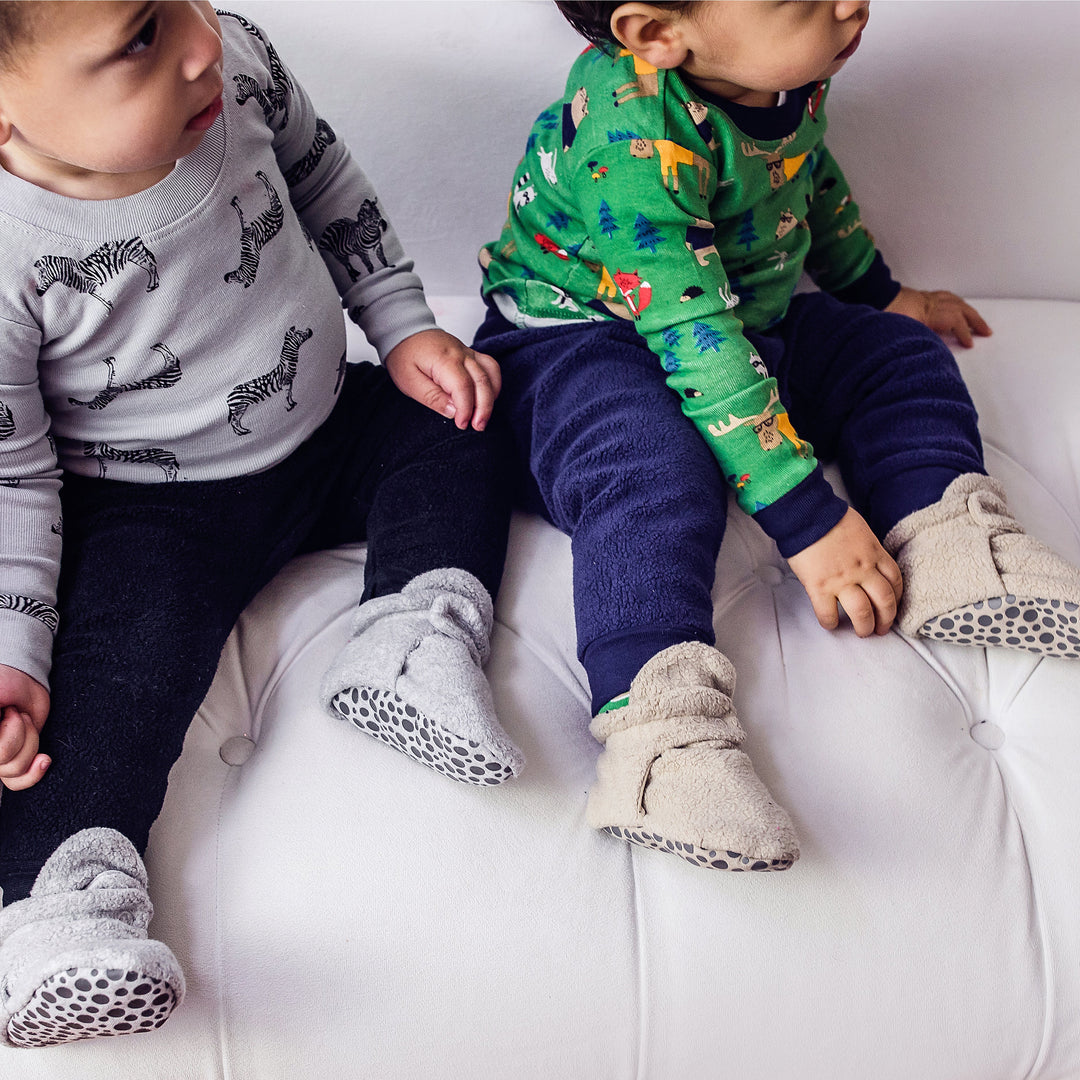 Non-Slip Grippers
Sizes 12M-24M come with non-slip soles to keep mobile little adventurers safe on slippery floors.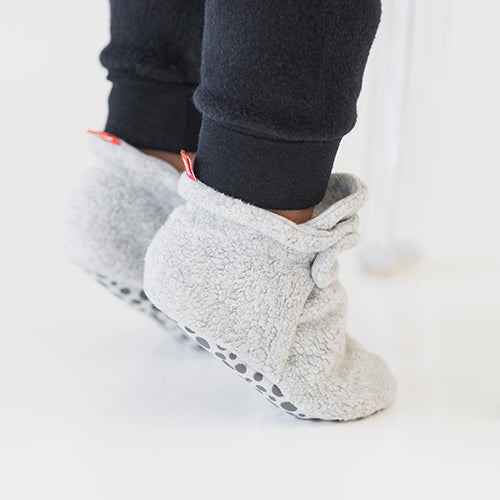 Good For Tiny Feet
Soft sole and designed to provide a full range of motion to support healthy foot development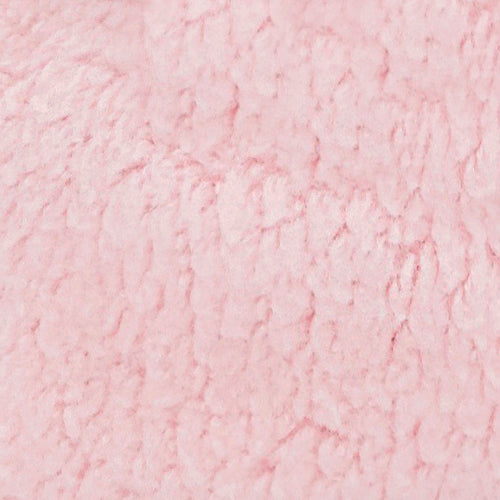 Premium Cozie Fleece
Our unique cotton-poly fleece blend is 70% cotton/30% poly making it softer and more durable than 100% poly fleece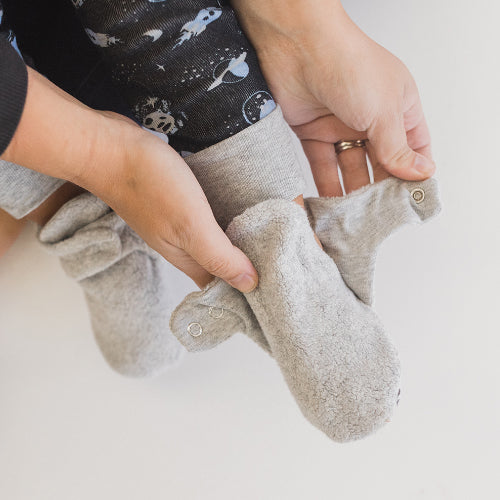 Organic Cotton Lining
A lining of 100% organic cotton feels soft on Baby's feet while remaining breathable and protecting skin from irritation
We've been making baby booties for over 20 years, before most people knew what they were. The replicas that flood the marketplace today are based on our original design.
Most importantly, they actually stay on your Baby's feet. Additionally we put a premium on quality materials and expert craftsmanship instead of producing them as cheaply as possible.
Click on the "Sizing Guidelines" tab above (below the product description) for information on how to measure and pick the appropriate size
Yes! You will have the option to add gift wrapping at checkout.